Podeželski turizem in socialni kapital v Sloveniji (primer vasi v Občini Cerkno) // Rural tourism and social capital in Slovenia (an example of villages in the Municipality of Cerkno)
Keywords:
podeželski turizem, socialni kapital, naravne in kulturne znamenitosti, Občina Cerkno // rural tourism, social capital, natural and cultural heritage, Municipality of Cerkno
Abstract
V prispevku predstavljamo dejavnike razvoja podeželskega turizma v Sloveniji na primeru izbranih vasi v Občini Cerkno. Zanimalo nas je, ali je razvoj podeželskega turizma povezan s socialnim kapitalom in ali se potencial naravnih in kulturnih znamenitosti lahko realizira preko socialnega kapitala. Preučevanje je temeljilo na analizi sekundarnih virov, pol-strukturiranih intervjujev, anketne raziskave in rezultatov delavnice z nosilci razvoja podeželja na obravnavanem območju. Ugotavljamo, da naravne in kulturne znamenitosti niso zadosten pogoj za razvoj podeželskega turizma brez sodelovanja njegovih prebivalcev z drugimi akterji na mikro, mezo in makro ravni.
The paper presents the case study of rural tourism development in selected villages in the Municipality of Cerkno situated in the western part of Slovenia. The main focus of the study was to found out whether the development of rural tourism is associated with social capital and whether the potential of natural and cultural attractions can be realized through social capital. The analysis was based on secondary sources, semi-structured interviews, survey and workshop  with stakeholders of rural development in this area. The study shows that natural and cultural heritage sites are not a sufficient condition for the development of rural tourism when the participation of local people with other actors at the micro, mezzo and macro level is missing.
References
Barbič, A. 2005: Izzivi in priložnosti podeželja. Ljubljana.
Carson, D., Prideaux, B., Coghlan, A., Taylor, A. 2009: Heritage as a motivation for four-wheel-drive tourism in desert Australia. Journal of Heritage Tourism 4-3. London. DOI: http://dx.doi.org/0.1080/17438730802691707
Černič Istenič, M. 2003: Potential of farm women in Slovenia for rural development. Perspektive žena u obiteljskoj poljoprivredi i ruralnom razvoju. Poreč.
Černič Istenič, M. 2006: Farm women in Slovenia. Rural Gender Relations: Issues and Case Studies. Wallingford.
Darcy, S., Wearing, S. 2009: Public-privat partnerships and contested cultural heritage tourism in national parks: a case study of the stakeholders views of the North Head Quarantine Station (Sydney, Australia). Journal of HeritageTourism 4-3. London. DOI: http://dx.doi.org/10.1080/17438730802433852
Gholami, S., Assayesh, H., Alipour-Nakhi, A. 2010: The study of tourism geography in rural areas of Noushahr City of Mazandaran Province (Iran): the case of Balade KojourVill. JournalAmerican-Eurasian Journal of Agricultural and Environmental Science 7-3. Teheran.
Johannesson, G., Skaptadottir, U., Benediktsson, K. 2003: Coping with social capital? The cultural economy of tourism in the North. Sociologia Ruralis 43-1. Oxford. DOI: http://dx.doi.org/10.1111/1467-9523.00226
Jones, S. 2005: Community-based ecotourism. The Significance of social capital. Annals of Tourism Research 32-2. Philadelphia. DOI: http://dx.doi.org/10.1016/j.annals.2004.06.007
Klemenčič, M. 2000: Turizem - rešitelj slovenskega podeželja. Turizem - razvojna možnost podeželja. Ljubljana.
Koščak, M. 1999: Preobrazba podeželja ob slovensko-hrvaški meji. Doktorsko delo, Oddelek za geografijo Filozofske fakultete Univerze v Ljubljani. Ljubljana.
Lapajne Trojar, A., Bizjak, M. 1999: Anketa CRPOV KS Šebrelje. Lokalni podjetniški center občin Idrija in Cerkno. Idrija.
Lapajne Trojar, A., Bizjak, M. 2001: Anketa CRPOV KS Novaki. Idrijsko Cerkljanska razvojna agencija. Idrija.
Mavri, R. 2008: Vloga socialnega kapitala v razvoju turizma v izbranih podeželskih skupnostih. Magistrsko delo, Biotehniška fakulteta Univerze v Ljubljani. Ljubljana.
Owen, H. 1997: Open Space Technology. San Francisco.
Podmenik, D. 2012: Preučevanje socialnega kapitala na podeželju: študija primera Slovenske Istre. Raziskave in razprave 5-2. Nova Gorica.
Potočnik Slavič, I. 2010: Endogeni razvojni potenciali slovenskega podeželja. GeograFF 7. Ljubljana.
Putnam, R. D. 1993: Making Democracy Work: Civic Traditions in Modern Italy. Princeton.
Saxena, G., Ilbery, B. 2010. Developing integrated rural tourism: Act or practices in the English/Welsh border. Journal of Rural Studies 26-3. Oxford. DOI: http://dx.doi.org/10.1016/j.jrurstud.2009.12.001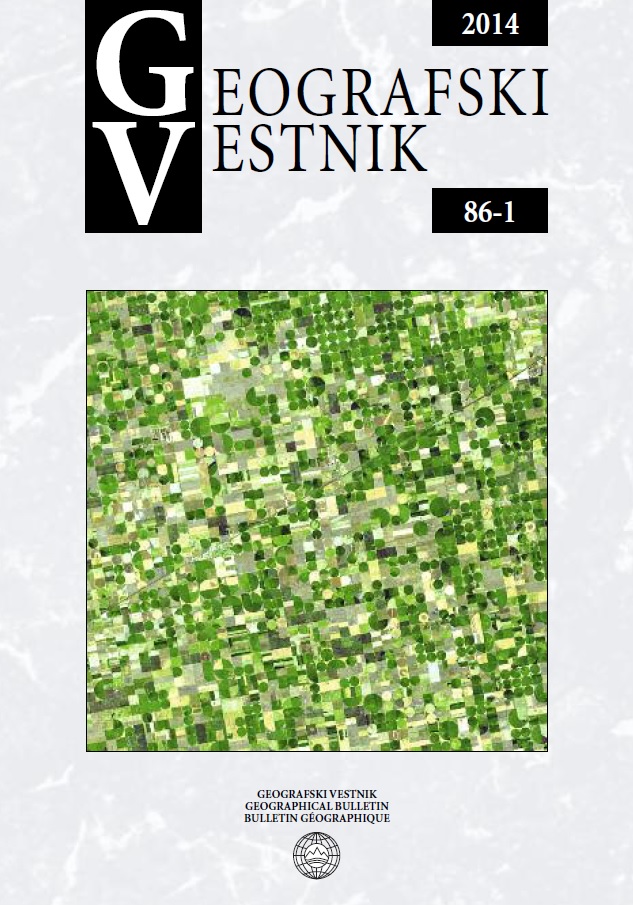 Downloads
License
All moral rights are retained by the author for copyright work submitted for publication in Geografskivestnik. The author transfers all material rights to reproduction and distribution in Slovenia and in other countries to the publisher free of charge, without time limit, for all cases, for unlimited numbers of copies, and for all analog and digital media without exception. If the article is not in line with the instructions for publication, the author shall permit the publisher to adapt the article accordingly. The publisher shall ensure that, given sufficient funds for printing, all positively reviewed articles shall be published in Geografski vestnik, generally in the sequence in which they are received and in line with the balanced distribution of articles by section. Commissioned articles may be published at any time regardless of the date they are received.No authorship fee is paid for articles in Geografski vestnik. Authors are entitled to one free copy of the publication.
Za avtorsko delo, poslano za objavo v Geografski vestnik, vse moralne avtorske pravice pripadajo avtorju, materialne avtorske pravice reproduciranja in distribuiranja v Republiki Sloveniji in v drugih državah pa avtor brezplačno, enkrat za vselej, za vse primere, za neomejene naklade in za vse analogne in digitalne medije neizključno prenese na izdajateljico. Če avtorsko delo ni v skladu z navodili za objavo, avtor dovoljuje izdajateljici, da avtorsko delo po svoji presoji ustrezno prilagodi. Izdajateljica poskrbi, da se vsi prispevki s pozitivno recenzijo, če so zagotovljena sredstva za tisk, objavijo v Geografskem vestniku, praviloma v skladu z vrstnim redom prispetja prispevkov in v skladu z enakomerno razporeditvijo prispevkov po rubrikah. Naročeni prispevki se lahko objavijo ne gledena datum prispetja. Članki v reviji Geografski vestnik niso honorirani. Avtorju pripada 1 brezplačen izvod publikacije.