Mladinski turizem in potovalne navade študentov – primer Univerze na Primorskem // Youth tourism and travel habits of students – the case of the University of Primorska
Keywords:
mladinski turizem, mladi, študenti, potovalne navade, Univerza na Primorskem // youth tourism, young people, students, travel habits, University of Primorska
Abstract
Prispevek obravnava problematiko mladinskega turizma, s katerim je po ocenah ekonomistov letno povezana petina vseh opravljenih turističnih potovanj na globalni ravni. V prvem delu članka je opredeljen segment mladinskega turizma, nato pa je podan pregled poglavitnih študij, ki obravnavajo turistično mobilnost slovenskih študentov. Slednjo sta avtorja preučevala na primeru študentov Univerze na Primorskem. Predstavljeni izsledki se nanašajo na potovalne navade študentov, med katerimi so izpostavljena zlasti območja turističnega obiska, trajanje in pogostost potovanj ter organizacijski in finančni vidiki potovanja.
The article deals with the issue of youth tourism, a phenomenon which according to the economists yearly generates one fifth of all tourism flows globally. The authors first present the concepts and scope of youth tourism and provide an overview of major studies addressing the tourist mobility of the Slovenian student population. The second part of the article summarizes the main findings of empirical research, conducted among the students of University of Primorska. The presented results refer to the travel habits of students, among which the main areas of tourist visits, duration and frequency of travel as well as organizational and financial aspects of the travel are exposed.
References
Bryman, A. 2012: Social Research Methods. New York.
Commission of the European Communities 2009: EU Youth Report. Medmrežje: http://ec.europa.eu/youth/documents/youth_report_final.pdf (7. 8. 2013).
Gosar, A. 1989: Potovanja študentov geografije – primer vrednotenja prostora za rekreativne potrebe specifične socialnogeografske skupine prebivalcev Slovenije/Jugoslavije. Dela 6. Ljubljana.
Gostiša, N. 2000: Družbenogeografske značilnosti turističnih potovanj študentov. Geografski obzornik 47-3. Ljubljana.
Koderman, M. 2008: Nove članice Evropske Unije kot predmet turističnega in geografskega preučevanja med študenti Univerze na Primorskem. Nova Evropa – nova turistična destinacija: zbornik. Portorož.
Mihalič, T. 2008: Turizem: ekonomski vidiki. Ljubljana.
Neuman, W. L. 2006: Social Research Methods: Qualitative and Quantitative Approaches. Boston.
Pehan, V. 2007: Potovalne navade študentov. Diplomsko delo, Fakulteta za družbene vede Univerze v Ljubljani. Ljubljana.
Pogačnik, A. 2008: Prostorsko načrtovanje turizma. Ljubljana.
Richards, G. 2005: ISTC/UNWTO Survey on Student and Youth Tourism among National Tourism Administrations/Organizations. UNWTO: Tourism Market Trends. Medmrežje: http://www.ttr.tirol.at/sites/default/files/upload/UNWTO%20Student%20and%20Youth%20Travel.pdf (5. 8. 2013).
Sektor za izobraževanje Univerze na Primorskem: Vpisni podatki za Univerzo na Primorskem za študijako leto 2012/13. Koper, 2013.
SURS – Statistični urad Republike Slovenije 2012a: Turistična potovanja domačega prebivalstva, Slovenija 2011 – končni podatki. Medmrežje: http://www.stat.si/doc/statinf/21-SI-082-1201.pdf (7. 8. 2013).
SURS – Statistični urad Republike Slovenije 2012b: Mednarodni dan študentov 2012. Medmrežje: http://www.stat.si/novica_prikazi.aspx?id=5136 (19. 8. 2013).
SURS – Statistični urad Republike Slovenije 2014a: Demografsko socialno področje. Medmrežje: http://www.stat.si/tema_demografsko_prebivalstvo.asp (1. 3. 2014).
SURS – Statistični urad Republike Slovenije 2014b: Vpis študentov v višješolsko in visokošolsko izobraževanje, Slovenija, študijsko leto 2013/14 - začasni podatki.
Medmrežje: https://www.stat.si/novica_prikazi.aspx?ID=6104 (1. 3. 2014).
Swarbrooke, J., Horner, S. 1999: Consumer Behaviour in Tourism. Oxford.
UNWTO – United Nations World Tourism Organization 2001: Thesaurus on tourism and leisure activities: a structured list of descriptors for indexing and retrieving information on tourism and leisure activities. Madrid.
UNWTO – United Nations World Tourism Organization 2008: Youth Travel Matters – Understanding the Global Phenomenon of Youth Travel. Madrid.
WYSE Travel Confederation 2013: Industry Review no. 1: Data, Statistics and Trends. Medmrežje: http://wysetc.org/publications/free-reports/ (15. 8. 2013).
Zakon o visokem šolstvu. Uradni list Republike Slovenije 67/1993. Ljubljana.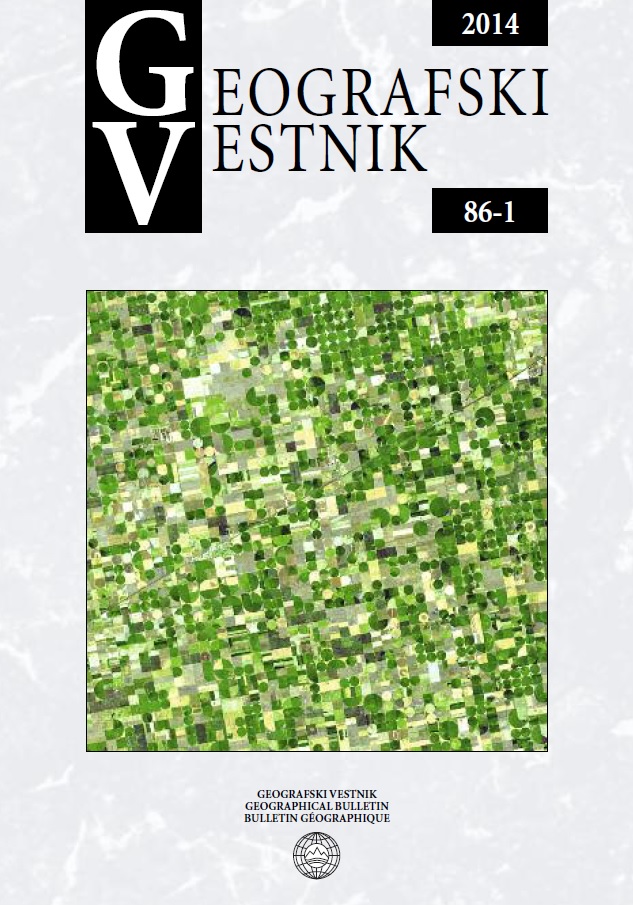 Downloads
License
All moral rights are retained by the author for copyright work submitted for publication in Geografskivestnik. The author transfers all material rights to reproduction and distribution in Slovenia and in other countries to the publisher free of charge, without time limit, for all cases, for unlimited numbers of copies, and for all analog and digital media without exception. If the article is not in line with the instructions for publication, the author shall permit the publisher to adapt the article accordingly. The publisher shall ensure that, given sufficient funds for printing, all positively reviewed articles shall be published in Geografski vestnik, generally in the sequence in which they are received and in line with the balanced distribution of articles by section. Commissioned articles may be published at any time regardless of the date they are received.No authorship fee is paid for articles in Geografski vestnik. Authors are entitled to one free copy of the publication.
Za avtorsko delo, poslano za objavo v Geografski vestnik, vse moralne avtorske pravice pripadajo avtorju, materialne avtorske pravice reproduciranja in distribuiranja v Republiki Sloveniji in v drugih državah pa avtor brezplačno, enkrat za vselej, za vse primere, za neomejene naklade in za vse analogne in digitalne medije neizključno prenese na izdajateljico. Če avtorsko delo ni v skladu z navodili za objavo, avtor dovoljuje izdajateljici, da avtorsko delo po svoji presoji ustrezno prilagodi. Izdajateljica poskrbi, da se vsi prispevki s pozitivno recenzijo, če so zagotovljena sredstva za tisk, objavijo v Geografskem vestniku, praviloma v skladu z vrstnim redom prispetja prispevkov in v skladu z enakomerno razporeditvijo prispevkov po rubrikah. Naročeni prispevki se lahko objavijo ne gledena datum prispetja. Članki v reviji Geografski vestnik niso honorirani. Avtorju pripada 1 brezplačen izvod publikacije.