(Ne)vidne spremembe podeželskih skupnosti: primeri z Gorenjske in Sauerlanda // (In)visible changes of rural communities: examples from Gorenjska region (Slovenia) and Sauerland (Germany)
Erik Logar

Irma Potočnik Slavič
Keywords:
podeželje, podeželska skupnost, Gorenjska, Sauerland, Slovenija, Nemčija, //, rural areas, rural community, Gorenjska region, Slovenia, Germany
Abstract
Podeželska skupnost se kot družbeni in simbolni konstrukt ter hkrati tudi kot enota absolutnega prostora spreminja pod vplivom družbenogospodarskega razvoja. Prispevek obravnava spreminjanje šestih podeželskih skupnosti na vitalnem podeželju z vidika vloge druženja in sodelovanja prebivalcev v treh civilizacijskih stopnjah na izbranih primerih z Gorenjske (Slovenija) in Sauerlanda (Nemčija). (Ne)vidne spremembe znotraj izbranih podeželskih skupnosti so proučevane s primerjalno analizo na podlagi kvantitativnih in kvalitativnih metod, s katerimi so opazovani lažje (migracije, prostori druženja) in težje merljivi (možnost izbire, povečana heterogenost) kazalci sprememb podeželske skupnosti. Geografska analiza sprememb v podeželskih skupnostih je pokazala na njihovo povečano mobilnost, raztočnost ter sobivanje tradicionalnosti, alternativ in novosti pri druženju in sodelovanju.

Socioeconomic development has changed the rural community as a social and symbolic construct, and a unit of space as well. This paper discusses six changing vital, rural communities from the social perspective and cooperation. Three case studies surveyed are in Gorenjska region (Slovenia) and three in Sauerland (Germany) throughout the agrarian, industrial and information period. Comparative analysis is based on quantitative and qualitative methods that enabled us to observe (in)visible changes inside selected rural communities. We employed tangible (migration, geography) and intangible indicators (possibility of choice, increased heterogeneity). Geographical analysis of changing rural communities pointed out their increased mobility, bifurcation, co-existence of tradition, alternatives and novelties within formal and informal settings.
References
Basaj, I. J. 2014: O življenju na Suhi pri Predosljah po koncu druge svetovne vojne (osebni vir, 24. 4. 2014). Predoslje.
Benkovič Krašovec, M. 2006: Centralna naselja na podeželju v Sloveniji. Geografski obzornik 53-3.
Bröckling, F. 2014: O načinu izbire naselij v pokrajini Sauerland (osebni vir, 10. 10. 2014). Münster.
Ceccato, V., Persson, L. O. 2003: Differential Economic Performance (DEP) in the periphery - Evidence from Swedish rural areas. European Journal of Spatial Development 7.
Cecchi, C. 2003: Public goods and public services - the process of building social capital in rural areas. Sidea, Gruppo di lavoro: Processi e politiche di sviluppo rurale. DOI: http://dx.doi.org/10.2139/ssrn.941196
Cerklje.si, 2014. Medmrežje: http://www.cerklje.si/ (29. 12. 2014).
Ferragina, E. 2012: Social Capital in Europe - A Comparative Regional Analysis. Northampton. DOI: http://dx.doi.org/10.4337/9781781000229.00007
Golob, M. 1967: Kooperativni odnosi na vasi v preteklosti in danes. Raziskovalno poročilo, RSS. Ljubljana.
Grabski-Kieron, U. 2014: Izbor ustreznih naselij v zvezni deželi Severno Porenje-Vestfalija (osebni vir, 7. 10. 2014). Münster.
Guštin, Š. 2014: Določanje meje med mestom in podeželjem s pomočjo spoznavnih zemljevidov (na primeru občine Izola). Dela 41. DOI: http://dx.doi.org/10.4312/dela.41.7.129-144
Guštin, Š., Potočnik Slavič, I. 2015: Prepoznavanje in prostorska razmestitev konfliktov na podeželju. Geografski vestnik 87-1. DOI: http://dx.doi.org/10.3986/GV87105
Guštin, Š. 2016: Interaktivni scenariji rabe tal na podeželju občine Izola. Dokument je v izdelavi.
Halfacree, K. 1993: Locality and social representation: Space, discourse and alternative definitions of the rural. Journal of Rural Studies 9-1.
Halfacree, K. 2006: Rural space - constructing a three-fold architecture. Handbook of Rural Studies. London. DOI: http://dx.doi.org/10.4135/9781848608016.n4
Handbuch der naturräumlichen Gliederung Deutschlands. Veröffentlichungen der Bundesanstalt für Landeskunde. Bonn, 1957.
Hazler, V. 2010: (Raz-)vrednotenje dediščine? Globalizacija in utrjevanje domačih korenin - naj ohrani naša dolina svoj podedovani obraz! Videm-Dobrepolje.
Helmeringhausen, 2014. Medmrežje: http://www.helmeringhausen.de/ (29. 12. 2014).
Ilešič, S. 1959: Die Flurformen Slowenines im Lichte der europäischen Flurforschung. Münchner geographische Hefte 16.
Kladnik, D. 1999: Leksikon geografije podeželja. Ljubljana.
Klemenčič, M. M. 1995: Krajevna identiteta na primeru srednje in zgornje Gorenjske. Dela 11.
Klemenčič, M. M. 2003: Civilizacijske razvojne stopnje in razvojni problemi obrobnih območij v Sloveniji. Dela 19.
Klemenčič, M. M. 2006: Teoretski pogled na razvojne strukture slovenskega podeželja. Dela 25. DOI: http://dx.doi.org/10.4312/dela.25.13.159-171
Klemenčič, M. M. 2010: Podeželska idila ali koma slovenskega tradicionalnega podeželja. Podeželje na preizkušnji - jubilejna monografija ob upokojitvi izr. prof. dr. Antona Prosena. Ljubljana.
Klemenčič, M. M., Lampič, B., Potočnik Slavič, I. 2008: Življenjska (ne)moč obrobnih podeželskih območij v Sloveniji. Ljubljana.
Knežević Hočevar, D., Černič Istenič, M. 2010: Dom in delo na kmetijah - raziskava odnosov med generacijami in spoloma. Ljubljana.
Logar, E. 2013: Sodobne razvojne smeri polkmetov na primeru Voklega. Dela 39. DOI: http://dx.doi.org/10.4312/dela.39.4.67-86
Liepins, R. 2000: New energies for an old idea: reworking approaches to »community« in contemporary rural studies. Journal of Rural Studies 16. DOI: http://dx.doi.org/10.1016/s0743-0167(99)00042-x
Magnani, N., Struffi, L. 2009: Translation sociology and social capital in rural development initiatives – a case study from the Italian Alps. Journal of Rural Studies 25. DOI: http://dx.doi.org/10.1016/j.jrurstud.2008.10.004
McLuhan, 2015. Medmrežje: http://www.livinginternet.com/i/ii_mcluhan.htm (4. 4. 2015).
Mlinar, Z. 2012: Globalizacija bogati in/ali ogroža? Ljubljana.
Nehden, 2014. Medmrežje: http://www.nehden.de/ (29. 12. 2014).
Pletziger, S. 2014: Pogovor o izboru ustnih in pisnih virov v naseljih Sögtrop, Nehden in Helmeringhausen (osebni vir, 20. 10. 2014). Bestwig.
Podjed, A. 2014: O življenju na Olševku po koncu druge svetovne vojne (osebni vir, 23. 5. 2014). Olševek.
Potočnik Slavič, I. 2010: Endogeni razvojni potenciali slovenskega podeželja. GeograFF 7. Ljubljana.
Potočnik Slavič, I. 2013: Izbor ustreznih slovenskih naselij (19. 12. 2013). Ljubljana.
Predoslje: vas z razgledom, 2014. Medmrežje: http://www.ks-predoslje.si/ (29. 12. 2014).
Razpotnik Visković, N., Seručnik, M. 2013: Ugled kmečkega poklica in polkmetov v slovenski družbi po drugi svetovni vojni. Geografski vestnik 85-1.
Rebernik, D. 2009: Osnove fizične geografije Evrope. Ljubljana.
Rebernik, J. 2014: O življenju na Šenturški Gori po koncu druge svetovne vojne (osebni vir, 4. 5. 2014). Šenturška Gora.
Rigg, J. 1994: Redefining the village and rural life - lessons from South East Asia. The Geographical Journal 160-2. DOI: http://dx.doi.org/10.2307/3060071
Rowles, G. D. 1988: What's rural about rural aging? An Appalachian perspective. Journal of Rural Studies 4-2. DOI: http://dx.doi.org/10.1016/0743-0167(88)90029-0
Rutten, R., Westlund, H., Boekema, F. 2010: The spatial dimension of social capital. European Planning Studies 18. DOI: http://dx.doi.org/10.1080/09654311003701381
Sögtrop, 2014. Medmrežje: http://www.schmallenberg-soegtrop.de/ (29. 12. 2014).
Stepmap, 2015. Medmrežje: http://www.stepmap.de/landkarte/stumme-karte-mitteleuropa-1136239 (4. 5. 2015).
Svendsen, G. L. H. 2006: Studying social capital in situ – a qualitative approach. Theory and Society 35. DOI: http://dx.doi.org/10.1007/s11186-006-6780-3
Svendsen, G. L. H., Sørensen, J. F. L. 2007: There's more to the picture than meets the eye - Measuring tangible and intangible capital in two marginal communities in rural Denmark. Journal of Rural Studies 23-4. DOI: http://dx.doi.org/10.1016/j.jrurstud.2007.01.008
Škrjanc, R. 1999: Poleti suha in zaudarjajoča - neurejena struga potoka Belce. Gorenjski Glas 52-78 (1. 10. 1999).
Topographischer Atlas Nordrhein-Westfalen. Landesvermessungsamt Nordrhein-Westfalen. Düsseldorf, 1968.
Urbanc, M. 2002: Kulturne pokrajine v Sloveniji. Geografija Slovenije 5. Ljubljana.
Vas Olševek, 2014. Medmrežje: http://olsevek.si/ (29. 12. 2014).
Vereinsgesetz, 2014. Medmrežje: http://www.gesetze-im-internet.de/bundesrecht/vereinsg/gesamt.pdf (29. 12. 2014).
Woods, M. 2011: Rural. Abingdon.
Woods, M. 2005: Rural Geography - Processes, Responses and Experiences in Rural Restructuring. London.
Zakon o društvih. Uradni list Republike Slovenije 61/2006. Ljubljana.
Zavrl Žlebir, D. 1996: V dolini pravijo: hribovcem privoščimo asfalt. Gorenjski Glas 49-67 (25. 8. 1996).
Ustava Republike Slovenije. Uradni list Republike Slovenije 75/2016. Ljubljana.
Zakon o lokalni samoupravi. Uradni list Republike Slovenije 94/2007. Ljubljana.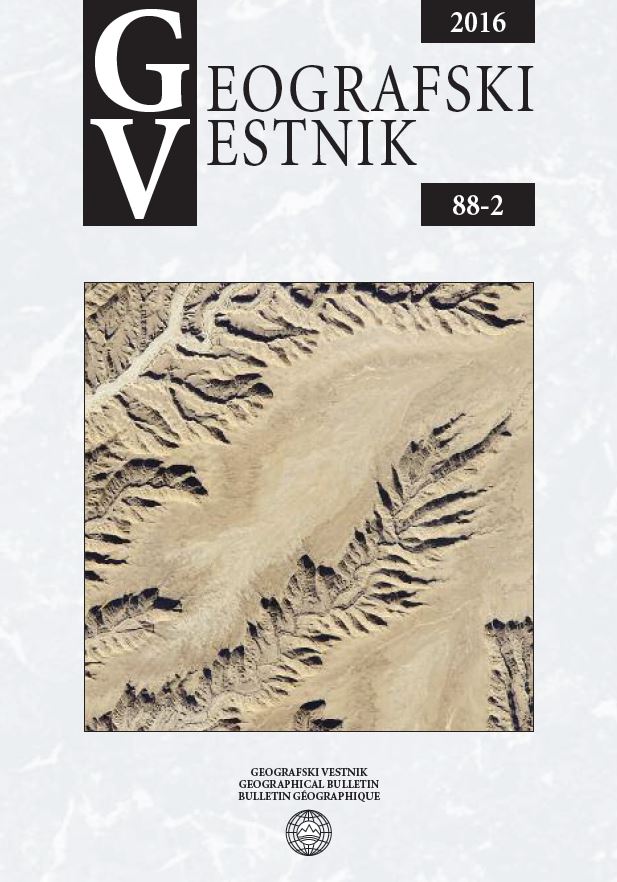 All moral rights are retained by the author for copyright work submitted for publication in Geografskivestnik. The author transfers all material rights to reproduction and distribution in Slovenia and in other countries to the publisher free of charge, without time limit, for all cases, for unlimited numbers of copies, and for all analog and digital media without exception. If the article is not in line with the instructions for publication, the author shall permit the publisher to adapt the article accordingly. The publisher shall ensure that, given sufficient funds for printing, all positively reviewed articles shall be published in Geografski vestnik, generally in the sequence in which they are received and in line with the balanced distribution of articles by section. Commissioned articles may be published at any time regardless of the date they are received.No authorship fee is paid for articles in Geografski vestnik. Authors are entitled to one free copy of the publication.
Za avtorsko delo, poslano za objavo v Geografski vestnik, vse moralne avtorske pravice pripadajo avtorju, materialne avtorske pravice reproduciranja in distribuiranja v Republiki Sloveniji in v drugih državah pa avtor brezplačno, enkrat za vselej, za vse primere, za neomejene naklade in za vse analogne in digitalne medije neizključno prenese na izdajateljico. Če avtorsko delo ni v skladu z navodili za objavo, avtor dovoljuje izdajateljici, da avtorsko delo po svoji presoji ustrezno prilagodi. Izdajateljica poskrbi, da se vsi prispevki s pozitivno recenzijo, če so zagotovljena sredstva za tisk, objavijo v Geografskem vestniku, praviloma v skladu z vrstnim redom prispetja prispevkov in v skladu z enakomerno razporeditvijo prispevkov po rubrikah. Naročeni prispevki se lahko objavijo ne gledena datum prispetja. Članki v reviji Geografski vestnik niso honorirani. Avtorju pripada 1 brezplačen izvod publikacije.