Primerjalna analiza učinkov druženja in sodelovanja v prostovoljnih gasilskih društvih na primerih podeželskih skupnosti z Gorenjske in Sauerlanda
Keywords:
prostovoljno gasilsko društvo, socialni kapital, podeželska skupnost, Atlas.ti, Gorenjska, Sauerland, Slovenija, Nemčija, //, volunteer firefighters' association, social capital, rural community, Slovenia, Germany
Abstract
V prostovoljnih gasilskih društvih se prepoznava formalizirano in na podlagi pokrajinskih značilnosti tehnično opremljeno medsebojno pomoč podeželske skupnosti ob nesrečah. V prispevku se z vidika teoretskega koncepta socialnega kapitala na primerjalni način analizira učinke prostovoljnih gasilskih društev v podeželskih skupnostih z Gorenjske (Slovenija) in Sauerlanda (Nemčija). Učinki prostovoljnih gasilskih društev so preučevani s kombinacijo kvalitativnih in kvantitativnih metod. Rezultati kažejo, da je učinek zagotavljanja varnosti in organizirane pomoči odvisen od prostorskega položaja prostovoljnih gasilcev ob nesreči. Med primeri prostovoljnih gasilskih društev iz obeh držav se v mreži društev v podeželski skupnosti kažejo razlike glede zavzetosti članov in sodelovanja z drugimi društvi. //
Comparative analysis of volunteer firefighters' associations impacts of socialising and cooperation in rural communities of Gorenjska and Sauerland

Volunteer firefighters' associations are identified as formalised form of communal work in rural communities in case of emergency, which is shaped by features of surrounding landscape. This article focuses on analysis of impacts of volunteer firefighters' associations in rural communities from Gorenjska region (Slovenia) and Sauerland (Germany) throughout the concept of social capital. Comparative analysis is based on qualitative and quantitative methods. Geographical analysis points out the role of geographical position of volunteer firefighters in case of emergency and also indicates some common features and also the regional differences between engagement of volunteer firefighters' associations and their collaboration with other associations.
References
Alič, V. 2012: Prostovoljni gasilci so slovensko nacionalno bogastvo. Dnevnik (22. 8. 2012). Medmrežje: https://www.dnevnik.si/1042547898 (22. 3.2019).
Bilten – 20 let PGD Šenturška Gora. Prostovoljno gasilsko društvo Šenturška Gora. Šenturška Gora, 2010.
Bourdieu, P. 1986: The forms of capital. Handbook of Theory and Research for the Sociology and Education. Westport.
Coleman, J. S. 1988: Social capital in the creation of human capital. American Journal of Sociology 84.
Der Bumbacher. Glasilo naselja Sögtrop. Schmallenberg, 2013.
Dolžan, T. 1983: Suška fantovska druščina. Obzornik: mesečna ljudska revija Prešernove družbe 39-6.
Falk, I., Kilpatrick, S. 2000: What is social capital? A study of interaction in a rural community. Sociologia Ruralis 40-1. DOI: https://doi.org/10.1111/1467-9523.00133
Informacija o poslovanju društev v Republiki Sloveniji v letu 2017. Agencija Republike Slovenije za javnopravne evidence in storitve. Ljubljana, 2018.
Jones, M. 2009: Phase space - geography, relational thinking, and beyond. Progress in Human Geography 33-4. DOI: https://doi.org/10.1177/0309132508101599
Komac, B. 2017: Humanistika – nevidni temelj za boljše razumevanje našega razmerja do naravnih in drugih nesreč. Ujma 31.
Lee, J., Arnason, A., Nightingale, A., Schucksmith, M. 2005: Networking - social capital and identities in European rural development. Sociologia Ruralis 45-4. DOI: https://doi.org/10.1111/j.1467-9523.2005.00305.x
Logar, E. 2015: Gradniki in učinki socialnega kapitala v podeželski skupnosti: primeri z Gorenjske in Sauerlanda. Magistrsko delo, Filozofska fakulteta Univerze v Ljubljani. Ljubljana.
Makarovič, M. 1979: Medsebojna pomoč na vasi na Slovenskem. Ljubljana.
Mavri, R., Černič Istenič, M. 2014: Podeželski turizem in socialni kapital v Sloveniji (primer vasi v občini Cerkno). Geografski vestnik 86-1. DOI: https://doi.org/10.3986/GV86104
Mohan, G., Mohan, J. 2002: Placing social capital. Progress in Human Geography 26-2. DOI: https://doi.org/10.1191/0309132502ph364ra
Naughton, L. 2013: Geographical narratives of social capital - Telling different stories about the socio-economy with context, space, place and agency. Progress in Human Geography 38-1. DOI: https://doi.org/10.1177/0309132513488731
Nehden - Das Dorf im Sauerland 1113 – 2013. Dorfgemeinschaft Nehden. Nehden, 2013.
Novice izpod Krvavca. Glasilo občine Cerklje. Cerklje na Gorenjskem, 2014.
Pipan, A. 2014: Razvoj gasilstva na slovenskem ozemlju in družbeni pomen PGD Prebačevo-Hrastje. Diplomsko delo, Filozofska fakulteta Univerze v Ljubljani. Ljubljana.
Ploeg, J. D., Marsden, T. (ur.) 2008: Unfolding Webs - The Dynamics of Regional Rural Development. Assen.
Pod Jurijevim klobukom - zbornik Občine Šenčur. Šenčur, 2006.
Potočnik Slavič, I. 2009: Socialni kapital na slovenskem podeželju. Dela 31. DOI: https://doi.org/10.4312/dela.31.21-36
Potočnik Slavič, I. 2010: Endogeni razvojni potenciali slovenskega podeželja. GeograFF 7. Ljubljana.
Prager, K., Nienaber, B., Neumann, B., Phillips, A. 2015: How should be rural policy evaluated if it aims to foster community involvement in environmental management? Journal of Rural Studies 37-1. DOI: https://doi.org/10.1016/j.jrurstud.2014.12.006
Prostovoljno gasilsko društvo Suha: 1926–1996. PGD Suha. Kranj, 1996.
Putnam, R. D. 1993: Making Democracy Work - Civic Traditions in Modern Italy. Princeton.
Putnam, R. D. 1995: Bowling alone - America's declining social capital. Journal of Democracy 6-1. https://doi.org/10.1353/jod.1995.0002
Rudolf, M. 2016: PGD Unec (1911–1941). Diplomsko delo, Filozofska fakulteta Univerze v Ljubljani. Ljubljana.
Rutten, R., Westlund, H., Boekema, F. 2010: The spatial dimension of social capital. European Planning Studies 18-6. DOI: https://doi.org/10.1080/09654311003701381
Stepmap, 2015. Medmrežje: http://www.stepmap.de/landkarte/stumme-karte-mitteleuropa-1136239 (4. 5. 2015).
Svendsen, G. L. H. 2006: Studying social capital in situ - A qualitative approach. Theory and Society 35. DOI: https://doi.org/10.1007/s11186-006-6780-3
Svendsen, G. L. H., Sørensen, J. F. L. 2007: There's more to the picture than meets the eye - Measuring tangible and intangible capital in two marginal communities in rural Denmark. Journal of Rural Studies 23-4. DOI: https://doi.org/10.1016/j.jrurstud.2007.01.008
Tief verwurzelt - weit verzweigt. Leben im Henne- und Rarbachtal. Heimat- und Geschichtsverein der katholische Kirchengemeinde Kirchrarbach e.V.. Kirchrarbach, 2012.
Urbanc, M. 2008: Raba utemeljevalne teorije in programa Atlas.ti v geografiji. Geografski vestnik 80-1.
Vereingesetz, 2007. Medmrežje: http://www.gesetze-im-internet.de/vereinsg/index.html (31. 1. 2019).
Vzorci statutov in pravilnikov GZ in PGD. Medmrežje: http://www.gasilec.net/organizacija/zakonodaja/vzorci-statutov-in-pravilnikov (31. 1. 2019).
Woodhouse, A. 2006: Social capital and economic development in regional Australia - A case study. Journal of Rural Studies 22-1. DOI: https://doi.org/10.1016/j.jrurstud.2005.07.003
Zakon o društvih. Uradni list Republike Slovenije 64/2011. Ljubljana.
Zakon o gasilstvu. Uradni list Republike Slovenije 71/1993. Ljubljana.
Zavrl Žlebir, D. 1999: Najmlajše gasilsko društvo v Sloveniji - Prostovoljno gasilsko društvo Šenturška Gora. Gorenjski Glas 52-37 (11. maj 1999).
Zgodovina PGD Olševek. Medmrežje: http://pgd.olsevek.si/opis/ (31. 1. 2019).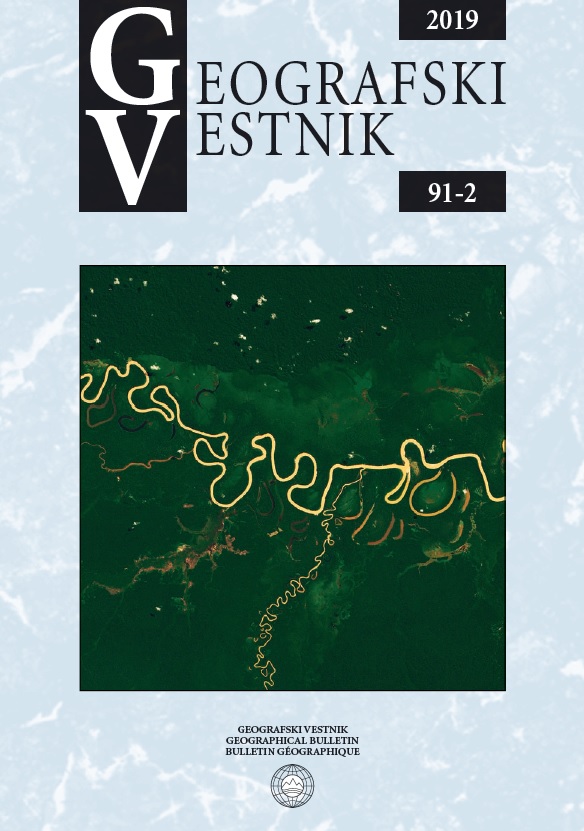 All moral rights are retained by the author for copyright work submitted for publication in Geografskivestnik. The author transfers all material rights to reproduction and distribution in Slovenia and in other countries to the publisher free of charge, without time limit, for all cases, for unlimited numbers of copies, and for all analog and digital media without exception. If the article is not in line with the instructions for publication, the author shall permit the publisher to adapt the article accordingly. The publisher shall ensure that, given sufficient funds for printing, all positively reviewed articles shall be published in Geografski vestnik, generally in the sequence in which they are received and in line with the balanced distribution of articles by section. Commissioned articles may be published at any time regardless of the date they are received.No authorship fee is paid for articles in Geografski vestnik. Authors are entitled to one free copy of the publication.
Za avtorsko delo, poslano za objavo v Geografski vestnik, vse moralne avtorske pravice pripadajo avtorju, materialne avtorske pravice reproduciranja in distribuiranja v Republiki Sloveniji in v drugih državah pa avtor brezplačno, enkrat za vselej, za vse primere, za neomejene naklade in za vse analogne in digitalne medije neizključno prenese na izdajateljico. Če avtorsko delo ni v skladu z navodili za objavo, avtor dovoljuje izdajateljici, da avtorsko delo po svoji presoji ustrezno prilagodi. Izdajateljica poskrbi, da se vsi prispevki s pozitivno recenzijo, če so zagotovljena sredstva za tisk, objavijo v Geografskem vestniku, praviloma v skladu z vrstnim redom prispetja prispevkov in v skladu z enakomerno razporeditvijo prispevkov po rubrikah. Naročeni prispevki se lahko objavijo ne gledena datum prispetja. Članki v reviji Geografski vestnik niso honorirani. Avtorju pripada 1 brezplačen izvod publikacije.