Nacionalni pesniki in kulturni svetniki: kanonizacija Franceta Prešerna in Jónasa Hallgrímssona
Ključne besede:
nacionalni literarni kanon, slovenska poezija, islandska poezija, romantika, nacionalni pesniki, Prešeren, France, Halgrímsson, Jónas, primerjalne študije
Povzetek
Razprava primerjalno obravnava kanonizacijo dveh romantičnih pesnikov, Franceta Prešerna (1800–1849) in Jónasa Hallgrímssona (1807–1845), ki sta vsak v svojem kulturnem okolju (slovenskem oziroma islandskem) nesporno dosegla status nacionalnega pesnika, mogoče pa ju je razumeti tudi kot »kulturna svetnika«.
Literatura
Ahačič, Kozma. Izvirne slovenske pesmi Jovana Vesela Koseskega. Ljubljana: Slavistično društvo Slovenije, 2006.
Bandle, Oskar. »Jónas Hallgrímsson und die 'nationalromantik'.« ÜberBrücken. Festschrift für Ulrich Groenke. Ur. Knut Brynhildsvoll. Hamburg: Helmut Buske Verlag, 1989. 229–244.
Božič, Zoran. Poezija Franceta Prešerna v srednješolskih učbenikih in njena recepcija. (Doktorska disertacija.) Ljubljana: Filozofska fakulteta, 2010.
Bulovec, Štefka. Prešernova bibliografija. Maribor: Obzorja, 1975.
CSENS. (Cultural Saints of European Nation States.) http://vefir.hi.is/culturalsaints/. (Dostop 10. 2. 2011.)
Dović, Marijan. »France Prešeren: A Conquest of the Slovene Parnassus.« History of the Literary Cultures of East-Central Europe. Junctures and Disjunctures in the 19th and 20th Centuries. (Zv. 4.) Ur. Marcel Cornis-Pope in John Neubauer. Amsterdam: Benjamins, 2010. 97–109.
– – –. »Literary Repertoire and the Interference Among Literatures.« Primerjalna književnost 27, pos. št. (2004): 67–74.
– – –. »Sodobni pogledi na literarni kanon in njegovo družbeno vlogo.« <1em>Dialogi 39.1–2 (2003): 18–44.
– – –. »Zgodnje literarne reprezentacije nacionalne zgodovine in 'slovenski kulturni sindrom'.« Primerjalna književnost 30, pos. št. (2007): 71–90.
Egilsson, Sveinn Yngvi. »Ways of Addressing Nature in a Northern Context: The Case of Jónas Hallgrímsson (1807–1845), Romantic Poet and Natural Scientist.« (V pripravi.)
Gspan, Alfonz. »Prešernov grob v Kranju.« Slavistična revija 2.1–2 (1949): 30–50.
Hafstein, Hannes. »Um Jónas Hallgrímsson.« Ljóðmæli og önnur rit eftir Jónas Hallgrímsson. København: Hið íslenska bókmenntafélag, 1883. VII–XLVI.
Hallgrímsson, Jónas. Ljóðmæli. Ur. Brynjólfur Pjetursson in Konráð Gíslason. Kaupmannahöfn: [s. n.], 1847.
– – –. Ritverk Jónasar Hallgrímssonar. (Zv. 1–2.) Ur. Haukur Hannesson, Páll Valsson in Sveinn Yngvi Egilsson. Reykjavík: Svart á hvítu, 1989.
Helgason, Jón Karl. »Eggért glói in an Alien Polysystem: The Reception of Tieck's 'Der blonde Eckbert' in Iceland.« (V pripravi.) [Islandska objava: »Íslenska bókmenntakerfið 1836: drög að lýsingu.« Kynlegir kvistir: tíndir til heiðurs Dagnýju Kristjánsdóttur fimmtugri. Ur. Soffía Auður Birgisdóttir. Reykjavík: Uglur og ormar, 1999. 31–39.]
– – –. »Journey's End 1946: The Last Resting Place of Jónas Hallgrímsson's Bones.« (V pripravi.) [Islandska objava: Ferdalok: Skýrsla handa akademíu. Svarta línan. Reykjavík: Bjartur, 2003.]
Jónsdóttir, Guðríður Borghildur. »Jónas Hallgrímsson.« (Angl. prev. Victoria Cribb.) Icelandic Writers. (Dictionary of Literary Biography 293.) Ur. Patrick J. Stevens. Detroit: Thomson Gale, 2004. 212–233.
Juvan, Marko. »Svetovni literarni sistem.« Primerjalna književnost 32.2 (2009): 181–212.
– – –. »Literary Self-Referentiality and the Formation of the National Literary Canon: The Topoi of Parnassus and Elysium in the Slovene Poetry of the 18th and 19th Centuries.« Neohelicon 31.1 (2004): 113–123.
Kos, Janez. Glejte ga, to je naš Prešeren. Ljubljana: Kiki Keram, 1997.
Kreutzer, Gert. »'Hann er farinn að laga sig eftir Heine'. Jónas Hallgrímsson und die deutsche Literatur.« Island 13.2 (2007): 55–68.
Kristmannsson, Gauti. »An Icelandic Shakespeare Alliterated.« William Shakespeare's Sonnets. Ur. Manfred Pfister in Jürgen Gutsch. Dozwil: Signathur, 2009. 337–344.
Leerssen, Joep. National Thought in Europe. A Cultural History. Amsterdam: Amsterdam University Press, 2006.
Mušič, Janez. Prešeren v upodobitvah. Ljubljana: Mladika, 1993.
Óskarsson, Þórir. »From Romanticism to Realism.« A History of Icelandic Literature. (Histories of Scandinavian Literatures, zv. 5.) Ur. Daisy Neijmann. Lincoln in London: The University of Nebraska Press in The American-Scandinavian Foundation, 2006. 251–307.
Ringler, Dick. Bard of Iceland: Jónas Hallgrímsson, Poet and Scientist. Madison: The University of Wisconsin Press, 2002.
Ringler, Dick. Jónas Hallgrímsson: Selected Poetry and Prose. http://www.library.wisc.edu/etext/Jónas/. (Dostop 10. 2. 2011.)
Stritar, Josip. »Preširnove poezije.« Pesmi Franceta Preširna. Ljubljana: Wagner, 1866.
Ziherl, Boris. Prešeren – pesnik in mislec. Ljubljana: Slovenski knjižni zavod, 1949.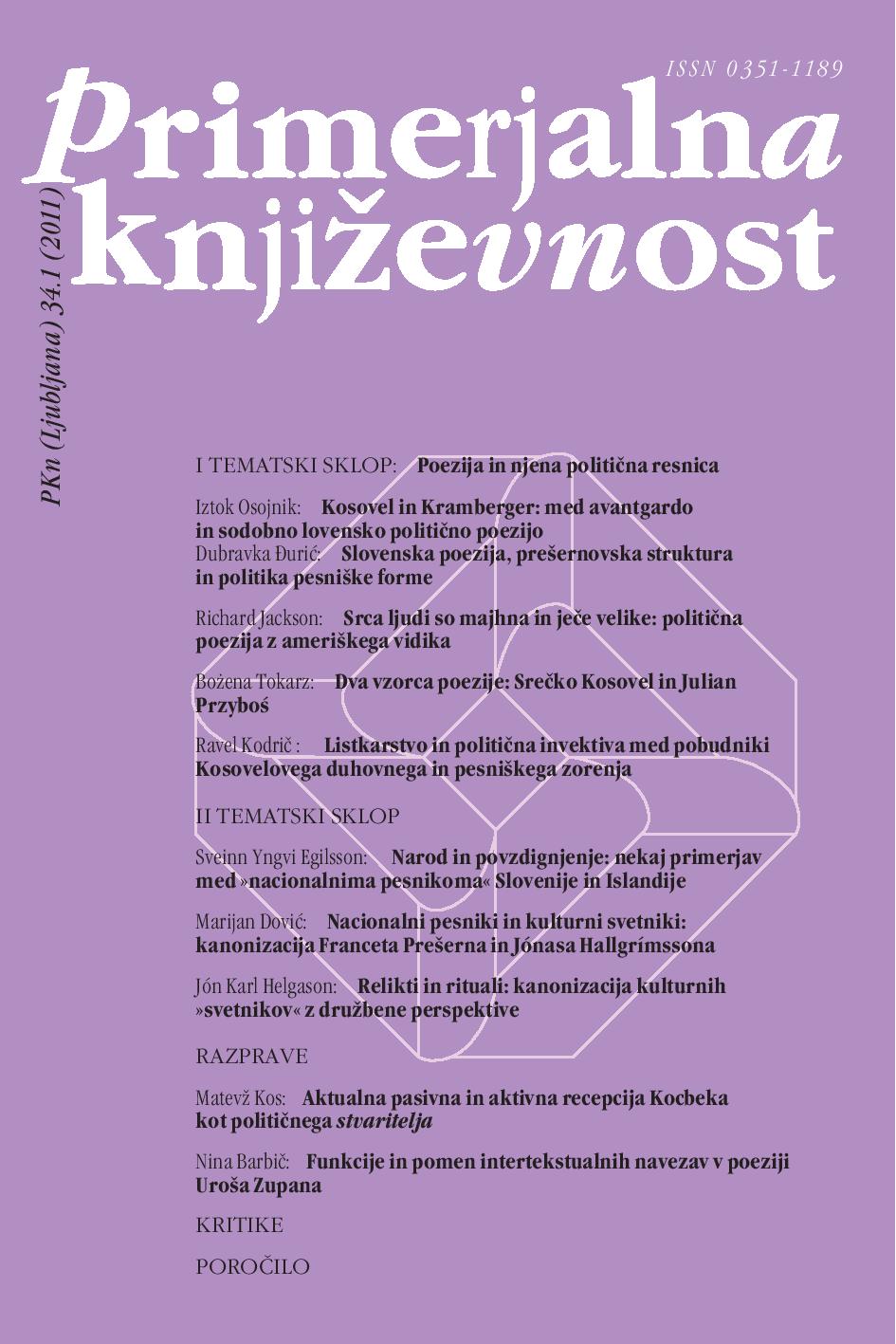 Rubrike
Tematski sklop II