Strategija zavezniškega branja: razkrivanje cenzuriranih tem intimnosti v švedski drami <em>Räddad</em> Alfhild Agrell
Ključne besede:
feministična literarna veda, švedska dramatika, Agrell, Alfhild, intimnost, cenzura, samocenzura
Povzetek
Članek predlaga etično bralno stališče, ki upošteva specifično družbeno-zgodovinsko cenzurno situacijo avtorice in uporablja strategijo zavezniškega branja, da bi razkrilo zamolčane teme intimnosti. Pri tem se opira na besedilne reference v drami Räddad (Rešena) švedske dramatičarke Alfhild Agrell iz leta 1883. Teoretična podlaga za strategijo zavezniškega branja so koncept o inkluzivnem modelu cenzure Helen Freshwater, teorija ponavljanja Judith Butler in trditve Toril Moi o političnem potencialu načina branja, ki se začne v skrbi za besedilo. Nato so predstavljene spolno specifične cenzurne razmere v osemdesetih letih 19. stoletja na Švedskem, v katerih je estetika idealizma vplivala na cenzuro v gledališčih in oblikovala tudi dramsko pisanje. Prikazano je nihanje med samocenzuro in izpostavljanjem teme intimnosti v igri A. Agrell in izpostavljen predlog, da bi to obravnavali kot specifično retoriko, ki je nastala zaradi zavedanja spolno pogojene cenzure. Na koncu s fenomenološkimi in z novimi materialističnimi analitičnimi orodji predstavim strategijo utelešenega branja igre A. Agrell. Da bi izpostavila njen celostni spolni/feministični potencial, analiziram polemike o tem literarnem delu in posebnosti njegove poetike.
Literatura
Agrell, Alfhild. <em>Räddad in Dramatiska arbeten 1. 1883</em>. Dramawebben, Litteraturbanken. Web. Accessed 5 December 2022. https://litteraturbanken.se/txt/lb999200183/lb999200183.pdf.

Bartky, Sandra Lee. <em>"Sympathy and Solidarity" and Other Essays</em>. Lanham, MD: Rowman & Littlefield, 2002.

Bourdieu, Pierre. <em>The Rules of Art: Genesis and Structure of the Literary Field</em>. Transl. Susan Emanuel. Cambridge: Polity Press, 1996.

Brooks, Peter. <em>The Melodramatic Imagination: Balzac, Henry James, Melodrama, and the Mode of Excess</em>. New York, NY: Columbia University Press, 1985.

Butler, Judith. <em>Excitable Speech: A Politics of the Performative</em>. London; New York, NY: Routledge, 1997.

Butler, Judith. "Ruled Out: Vocabularies of the Censor." <em>Censorship and Silencing: Practices of Cultural Regulation</em>. Ed. Robert C. Post. Los Angeles, CA: Getty Research Institute for the History of Art and the Humanities, 1998. 17–42.

Cohen, Margaret. <em>The Sentimental Education of the Novel</em>. Princeton, NJ: Princeton University Press, 1999.

Freshwater, Helen. "Towards a Redefinition of Censorship." <em>Censorship & Cultural Regulation in the Modern Age</em>. Ed. Beate Müller. Amsterdam; New York, NY: Rodopi 2004. 225–245.

Gedin, David. <em>Fältets herrar: Framväxten av en modern författarroll: Artonhundraåttitalet</em>. Eslöv: B. Östlings bokförlag; Symposion, 2004.

Giddens, Anthony. <em>The Transformation of Intimacy: Sexuality, Love, and Eroticism in Modern Societies</em>. Cambridge: Polity Press, 1992.

Hermansson, Gunilla. "Almqvist, Euphrosyne och problemet med världslitteraturen." <em>Almqvistvariationer: Receptionsstudier och omläsningar</em>. Ed. Anders Burman and Jon Viklund. Göteborg; Stockholm: Makadam förlag, 2018. 191–214.

Jameson, Frederic R. "Beyond the Cave: Demystifying the Ideology of Modernism." <em>The Bulletin of the Midwest Modern Language Association</em> 8.1 (1975): 1–20.

Johansson Lindh, Birgitta. <em>Som en vildfågel i en bur: Identitet, kärlek, frihet och melodramatiska inslag i Alfhild Agrells, Victoria Benedictssons och Anne Charlotte Lefflers 1880-talsdramatik</em>. Göteborg; Stockholm: Makadam förlag, 2019.

LaCapra, Dominick. <em>Writing History, Writing Trauma</em>. Baltimore, MD; London: The John Hopkins University Press, 2001.

Lauritzen, Monica. <em>Sanningens vägar: Anne Charlotte Lefflers liv och dikt</em>. Stockholm: Bonnier, 2012.

Levine, Michael G. <em>Writing Through Repression: Literature, Censorship, Psychoanalysis</em>. Baltimore, MD; London: The John Hopkins University Press, 1994.

Lindh Estelle, Birgitta. "Experience of Intimacy and Melodramatic Strategies as Resistance in Scandinavian Modern Breakthrough-Plays." <em>Representations, Scenes and Scenarios of Intimacy in Women's Writing</em>. Ed. Carmen Beatrice Duţu. Bucharest: Pro Universitaria (in press).

Moi, Toril. "Appropriating Bourdieu: Feminist Theory and Pierre Bourdieu's Sociology of Culture." <em>New Literary History</em> 4.22 (1991): 1017–1049.

Moi, Toril. <em>Henrik Ibsen and the Birth of Modernism: Art, Theatre, Philosophy</em>. Oxford: Oxford University Press, 2006.

Moi, Toril. <em>Revolution of the Ordinary: Literary Studies after Wittgenstein, Austin and Cavell</em>. Chicago, IL: The University of Chicago Press, 2017.

Molnár, István. <em>"Det gör godt att skåda": Bildning, moral och underhålllning i dramatic och offentlig debatt under teatersäsongen 1868–69 i Stockholm</em>. Stockholm: Stift. för utgivning av teatervetenskapliga studier, 1991.

Müller, Beate. "Censorship and Cultural Regulation: Mapping the Territory." <em>Censorship & Cultural Regulation in the Modern Age</em>. Ed. Beate Müller. Amsterdam; New York, NY: Rodopi 2004. 1–31.

Nordin Hennel, Ingeborg. "En stjärnskådespelerska." <em>Ny svensk teaterhistoria. Bd 2. 1800-talets teater</em>. Ed. Ulla-Britta Lagerroth and Ingeborg Nordin Hennel. Hedemora: Gidlund 2007. 218–39.

Nordin Hennel, Ingeborg. "Strid är sanning, frid är lögn: Om Alfhild Agrell och Anne Charlotte Edgren Leffler." <em>Nordisk kvinnolitteraturhistoria: Fadershuset 1800–1900</em>. Ed. Elisabeth Møller Jensen et al. Höganäs: Bokförlaget Bra böcker, 1993. 512–527.

Parry, Bronwyn C. "Inventing Iris: Negotiating the Unexpected Spatialities of Intimacy." <em>History of the Human Sciences</em> 21.4 (2008): 34–48.

Skeggs, Beverly. <em>Formations of Class and Gender</em>. London: Sage, 1997.

Rajiva, Jay. <em>Postcolonial Trauma and the Ethical Tactility of Reading</em>. Doctoral thesis. Toronto: University of Toronto, Department of English, 2014.

Reay, Diane. "Gendering Bourdieu's Concepts of Capitals? Emotional Capital, Women and Social Class." <em>Sociological Review</em> 52.1 (2004): 57–74.

Schück, Henrik, and Karl Warburg. <em>Illustrerad svensk litteraturhistoria, band 7: Den nya tiden</em>. Stockholm: Geber, 1932.

Tjäder, Per Arne. "Åttiotalsgenerationen." <em>Den svenska litteraturen 3: De liberala genombrotten: 1830–1890</em>. Ed. Sven Delblanc and Lars Lönnroth. Stockholm: Bonnier, 1988. 200–219.

Wirmark, Margareta. <em>Noras systrar: Nordisk dramatik och teater 1879–1899</em>. Stockholm: Carlsson bokförlag, 2000.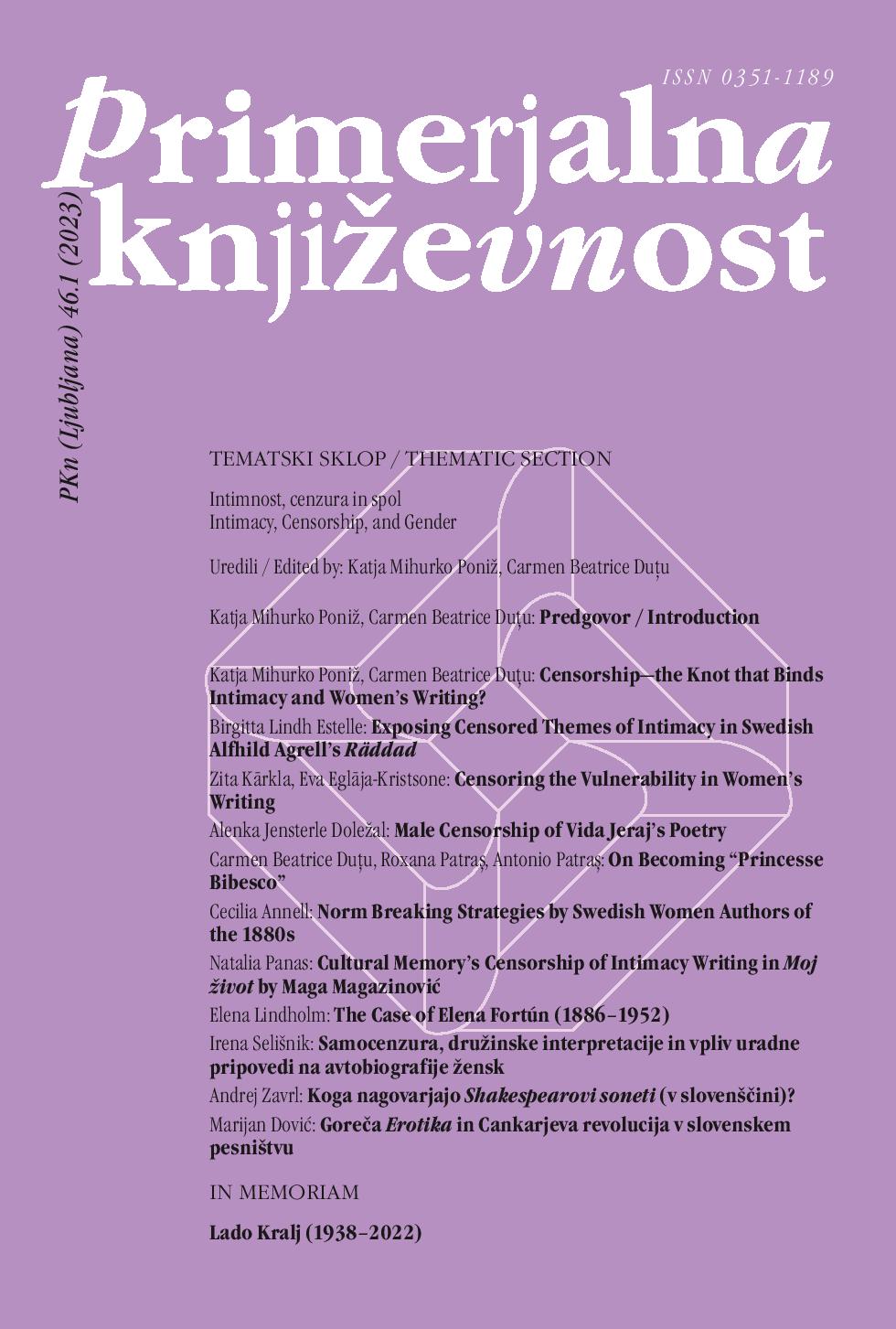 Prenosi